Beach Litter Is on the Decline: Study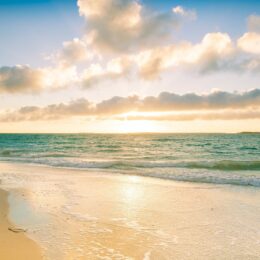 Bans on popular consumer products may not be necessary to reduce beach litter, according to a new study. 
A new report from the Commonwealth Scientific and Industrial Research Organisation, an Australian government research agency, revealed that beach litter has declined an average of 29 percent among Australian beaches. 
In total, more than 180 beaches were surveyed between 2018 and 2019, 32 of which were compared to beaches that had been studied from 2012 to 2013. Some of the beaches showed a decline as high as 73 percent when compared to previous data. 
Scientists who conducted the study called the decline in litter – which included glass, plastic, and metals – "heartening." The paper's co-author, Denise Hardesty, said awareness about pollution played a key role in the decline of litter.
"It's an amazing testimony of how much can change and how quickly you can see that change in the environment," Hardesty said. "Almost 30% in six years is really heartening and can help people understand the impacts of our behaviors."
The study revealed that unique several efforts helped to reduce overall litter, including reliable access to recycling bins and incentive programs, such as bottle deposits, that paid people to participate in recycling programs. 
Moreover, surveillance programs or signs warning about potential fines for littering also discouraged littering as beachgoers did not want to risk getting caught trashing the beach. Programs with direct financial incentives, such as rewards for depositing recyclables or fines to punish littering, were the most effective. 
"By having some of those resources and infrastructure in place it makes it easy for people to do the right thing," Hardesty explained. 
The study appears to show many effective litter reduction programs can be put in place without restrictive bans on essential "single-use" products such as water bottles, face masks, or gloves. Notably, the decline in litter identified throughout Australia was studied prior to the implementation of the country's 2019 ban on single-use plastics. 
Additionally, the study identified that there is only so much municipal governments can do to reduce beach litter. Even if every person in Australia stopped littering, trash can wash ashore from other countries. The study revealed that litter counts were much higher following days with stronger onshore waves. 
Much of the trash in the ocean is not there because of developed countries like Australia or the United States. In fact, less than one percent of mismanaged ocean trash can be traced back to the U.S., according to a 2015 study published in Science. Instead, countries like China, Indonesia, the Philippines, and Vietnam lead the world in ocean litter. 
As the study noted, good infrastructure is essential to reducing litter. Many of the countries responsible for the most mismanaged ocean trash simply lack the proper infrastructure to manage their waste. But these studies help reinforce that proper infrastructure is a better investment for environmentalists to make – rather than fighting for straw bans in rich American cities.