Chipotle Sued for False and Misleading GMO Claims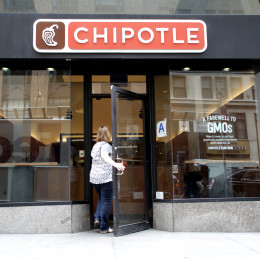 Chipotle's announcement it was switching to a "GMO-free" menu earned the Mexican food chain a spate of negative press coverage. News outlets from the Washington Post to NPR pointed out that the move was a "gimmick"—since there's no scientific evidence genetically modified foods are less safe or nutritious, there's no health reason for the switch. Now, Chipotle is facing a lawsuit from a California woman who accuses the chain of misleading consumers with its GMO-free advertising.
In making the switch, Chipotle disclosed on its website that since most animal feed contains GMOs, it's meat offerings will still mostly come from animals fed GMOs. The chain also serves sodas made with GMO ingredients. But you wouldn't know the chain still serves GMOs from its large "G-M-Over it," signs at all its restaurants. The lawsuit contends that since most customers are unlikely to see the disclaimers, Chipotle's advertising is false and misleading.
Chipotle is far from the only company to mislead consumers with its GMO-free labeling. As the Wall Street Journal points out, a number of food companies are putting GMO-free on products that would never actually contain GMOs in the first place. Even brands of salt—a mineral impossible to genetically modify—are labeled "GMO-free."  The article states:
While the U.S. government and most major science groups say evidence shows that GMOs are safe, consumer concern has grown so strong that some vendors of products such as blueberries and lettuce are paying for non-GMO labeling even though their products aren't among the small number of crops that are genetically modified in the U.S.
Labeling foods as "GMO-free," especially foods that have no genetically modified counterparts, adds to the misleading narrative that GMOs aren't safe or as healthy. To read more about the marketing gimmicks behind GMO labeling, read my recent op-ed in the Charleston Gazette Mail here.