Disparities in Drinking Water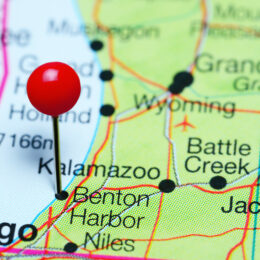 September 23, 2021
Categories: Water
America's tap water infrastructure is crumbling–and predominantly black communities are suffering the most. 
Nowhere is this more clear than in the city of Benton Harbor, Michigan, a city that is 85 percent black. After years of discolored water that smelled of sewage and poured out of the tap "sizzling like Alka-Seltzer," local officials announced in 2018 that Benton Harbor's water has a lead rating of 22 parts per billion. 
That may sound low, but it isn't when it comes to toxic lead. The federal government deems any lead rating over 15 parts per billion as a problem that must be addressed. The highest reading in the infamous tap water in Flint, Michigan, for example, was 20 parts per billion. In some tests, Benton Harbor's water had readings as high as 889 parts per billion, almost 60 times the action threshold for the U.S. Environmental Protection Agency
It's been three years since the lead was first detected, but little has been done to address the problem. The Natural Resources Defense Council (NRDC) recently filed an emergency appeal pleading with the EPA to intervene after inaction from state and local officials. 
This inaction will come at a cost. Lead contamination can lead to severe developmental issues in children as well as increased risks for kidney failure, stroke, and hypertension in adults. 
Meanwhile, in neighboring St. Joseph, lead levels are below the EPA threshold. 
St. Joseph is 85 percent white. Just 7 percent of St. Joseph residents are below the poverty line, while 45 percent of Benton Harbor lives below the poverty line. Residents of Benton Harbor believe the racial and financial disparities between Benton Harbor and St. Joseph are the reason the water in St. Joseph is drinkable while the water in Benton Harbor sizzles and smells of sewage. 
While the emergency petition to the EPA may spark some urgency from officials, Benton Harbor's residents don't expect much to change. 
"You can't talk to your city officials. You can't talk to your mayor. It's like, where do you begin? … Me personally, I'm ready to go. I'm ready to leave now," Carmela Patton, a 43-year resident of Benton Harbor, told The Guardian. 
NRDC Attorney Nick Leonard said "it could be several more years" before the lead problems are fixed, even if officials start today. 
In the meantime, community leaders in Benton Hill have done what they can to protect their neighbors. Local activists with the Benton Harbor Community Water Council have worked to ensure residents have access to bottled water which is often distributed by the truck full. 
The American Society of Civil Engineers estimates that one water main breaks every two minutes in the United States. NRDC estimates that there are 12.8 million lead pipes supplying water to American homes. 
Until these problems are solved, Americans — especially those who are already suffering in forgotten neighborhoods — need access to alternative purified water systems they can trust.