Energy Department Invests $6 Billion in Nuclear Despite Sierra Club Tears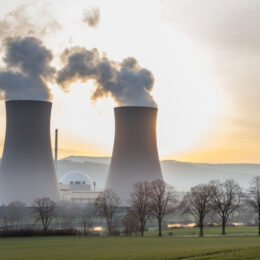 The United States Department of Energy announced a plan to spend $6 billion to rescue nuclear energy facilities that are at risk of closing. 
Department officials cited the Biden administration's goal of becoming carbon neutral as the reason behind the hefty investment. 
"U.S. nuclear power plants contribute more than half of our carbon-free electricity, and President Biden is committed to keeping these plants active to reach our clean energy goals," Energy Secretary Jennifer Granholm told the Associated Press. 
"We're using every tool available to get this country powered by clean energy by 2035, and that includes prioritizing our existing nuclear fleet to allow for continued emissions-free electricity generation and economic stability for the communities leading this important work," she added.
The investment will help current nuclear energy companies save reactors that have been put at risk due to financial distress. More than a dozen nuclear reactors have closed within the past decade, despite still having several years left on their licenses. 
Operators claimed that the drop in natural gas prices was a main reason behind their financial distress. More than a quarter of the U.S. nuclear fleet is in financial distress, according to the Department of Energy. 
Spending $6 billion on nuclear reactors may seem like a lot of money, but it's a drop in the bucket compared to the administration's spending on solar and wind power. The $1 trillion infrastructure deal, which is the funding source for the nuclear rescue plan, allocated a total of $73 billion for clean energy and $7.4 billion for electric vehicles alone. 
Nuclear energy generation is carbon neutral and efficient enough to power entire cities, unlike solar or wind. The Department of Energy reported that it takes 3 million solar panels or 430 wind turbines to generate the same amount of clean energy as a standard nuclear reactor. Just 93 reactors – most of which were built in the 70s – power 20 percent of the country and generate half of all green energy. 
Despite the drastic disparity in efficiency, there is only one nuclear reactor currently under construction in the United States while billions upon billions are poured into solar and wind power – which relies on the weather. 
Why is this? Uneducated environmentalists. 
Groups like the Sierra Club and Greenpeace have fought investment in nuclear energy at every turn while promoting greenwashed fads like vegan diets or biking to work as real solutions to the planet's carbon problems. 
The Sierra Club, which endorsed Biden in 2020, even condemned this small investment in nuclear energy, writing, "Every dollar spent on nuclear is one less dollar spent on truly safe, affordable and renewable energy sources."
But nuclear energy is one of the safest energy generation options in the country. And recent innovations are only making it safer. 
The Department of Energy is right to ignore the critics and rescue these reactors. Hopefully, this trend will continue and the country will stop spending billions on green energy options that stop working on cloudy days.