No, Eating School Lunches Doesn't Expose Kids to 'Unsafe Levels' of BPA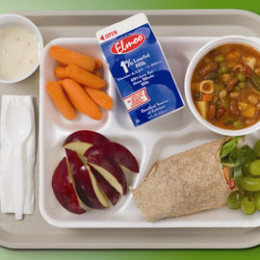 September 24, 2015
Categories: BPA
This week, researchers at Stanford University released a splashy new study, "Probabilistic modeling of school meals for potential bisphenol A (BPA) exposure." The study, published in the Journal of Exposure Science and Environmental Epidemiology, argues school meals may potentially "expose children to chronic toxic levels of BPA." But the levels of BPA exposure estimated by the study's researchers are nowhere near "toxic levels."
To illustrate how much these researchers are overstating the risk school lunches pose to students, let's look at Europe's views on BPA. In general, Europe takes a more restrictive approach to chemical regulation than the United States. That's why the European opinion that BPA poses no risk to human health is especially notable.
Earlier this year, the European Food Safety Authority (EFSA) released an extensive review of recent studies on BPA and potential toxicity and concluded, "BPA poses no health risk to consumers of any age group." The agency further noted, "exposure from the diet or from a combination of sources (diet, dust, cosmetics and thermal paper) is considerably under the safe level."
So what is a "safe level" of BPA exposure?
In its re-evaluation of BPA, EFSA set a "safe level," a "tolerable daily intake" or TDI level of BPA at 4 micrograms per kilogram of body weight per day. The agency said that the highest estimates for dietary exposure and for exposure from a combination of sources are 3-5 times lower than the TDI level.
Based on their modeling (not actual calculations and measures of student BPA exposure), Stanford researchers estimating students eating lunch with the highest "exposure potential" to BPA would only consume 1.19 micrograms of BPA per kilogram of body weight. Even at the highest level of estimated exposure (which, again, is just based on modeling estimates rather than actual exposure levels), students are well within the established "safe level" not the "toxic level" touted by the study's press release. The lower-end of their model found students would be exposed to just 0.00049 micrograms of BPA per kilogram of body weight–10,000 times lower than the safe exposure level set by the European Union.
While the study's lead researcher said she was "shocked to see that virtually everything in school meals came from a can or plastic packaging," it's shocking she would assume school meals were prepared any other way. Cans and plastic packaging are the among the best ways for schools to provide children with a variety of fruits and vegetables and avoid spoilage. Rather than focusing on low levels of BPA exposure in school lunches, we should be focused on ways to convince students to actually eat the fruits and vegetables offered as part of a well-balanced school lunch.