Tips to Stay Fire Safe This Halloween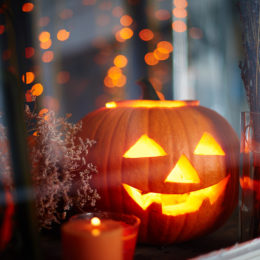 Halloween is just around the corner, and proper fire safety can ensure your spooky festivities don't go up in smoke.
According to the National Fire Protection Association, decorations catching fire are the primary reason for about 900 home fires each year. And as children run around neighborhoods alight with candles and jack-o-lanterns, it's especially important to ensure their costumes are fire-resistant. This week and through Halloween, our chief science officer Dr. Joseph Perrone is raising fire safety awareness in newspapers across the nation. You can read one of his letters below, or on the Naples Daily News website:
I get it. You were working in your lab late one night and didn't remind your youngest superhero to watch his cape near open flames. Accidents happen. That's why it's so essential to choose costumes labeled "flame retardant" or "fire resistant."

"Flame retardant" refers to the ability to inhibit fire from spreading. Numerous substances can achieve this effect by disrupting combustion, creating a physical barrier or releasing water or flame-choking gas. Even synthetic fibers like nylon and polyester have better fire-resisting capabilities than many natural fabrics.

Although federal law prohibits clothing made of rapid-burning fabrics, costumes can still ignite in as little as three seconds. Despite this very real risk, the use of flame retardants has received relentless criticism, with some actively campaigning against the safety feature in Halloween costumes.

Deliberately avoiding flame retardants when children are guaranteed to run around open flames while clad in dinosaur tails and oversized skirts is utterly irresponsible.

It's important to remember that manufacturers don't introduce chemicals haphazardly. Compounds like flame retardants were carefully developed and tested because society professed a need for them.

Instead of fearing chemistry this Halloween, embrace your inner mad scientist and appreciate the advancements science brings to holiday safety. And above all, check your children's costumes for fire safety.