What's In Your Veggie Burger?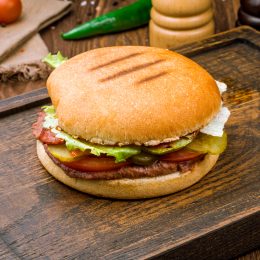 According to recent surveys, roughly 70 percent of consumers prefer products without additives. While avoiding additives won't have as drastic an effect on one's well-being as daily exercise, the public's growing interest in health is a good sign for a country with the highest obesity rates in the western world.
But in the interest of tapping into American's desire for healthier foods, one market segment in particular is doing more harm than good: fake meat.
You've likely heard of Tofurky and Boca Burgers – they've been around for decades. But meat alternatives are having their day with the introduction of products that so closely mimic the look and texture of meat, some people can't tell the difference.
The problem? While meat mimics market themselves as the healthful, "green" alternative to meat, their contents are anything but.
Check out the MorningStar Farms Chik'n Nuggets ingredient label:
Water, soy protein concentrate, corn oil, enriched flour (wheat flour, niacin, reduced iron, vitamin b1 [thiamin mononitrate], vitamin b2 [riboflavin], folic acid), bleached wheat flour, soy protein isolate, cornstarch, contains two percent or less of wheat gluten, wheat starch, methylcellulose, yellow corn flour, modified corn starch, dextrose, salt, sugar, natural and artificial flavors, autolyzed yeast extract, yeast extract, potassium chloride, spices, soy protein isolate, disodium inosinate, soybean oil, hydrolyzed soy protein, onion powder, dried yeast, chicory root fiber, caramel color, xanthan gum, sodium alginate, cellulose gum, paprika, paprika extract (color), hydrolyzed corn protein, annatto extract (color), garlic powder, baking soda, disodium guanylate, lactic acid, citric acid, disodium inosinate, disodium guanylate, vitamin b1 (thiamin hydrochloride), sodium acid pyrophosphate, sodium gluconate, barley extract, niacinamide, nonfat milk, egg whites, iron (ferrous sulfate), vitamin b1 (thiamin mononitrate), vitamin b6 (pyridoxine hydrochloride), vitamin b2 (riboflavin), vitamin b12.
That's 58 ingredients in one chik'n nugget. Here's meat market leader Tyson's chicken nugget for comparison. It has fewer than half the ingredients:
Boneless, skinless chicken breast with rib meat, wheat flour, water, contains 2% or less of the following: brown sugar, canola oil, chicken fat, dextrose, dried chicken broth, dried garlic, dried onion, dried yeast, natural flavor, paprika, paprika extract (color), salt, spices, sugar, yeast, yeast extract. Breading set in vegetable oil.
For burger lovers, here's what's in the buzzworthy Beyond Burger:
Water, Pea Protein Isolate, Expeller-Pressed Canola Oil, Refined Coconut Oil, Contains 2% or less of the following: Cellulose from Bamboo, Methylcellulose, Potato Starch, Natural Flavor, Maltodextrin, Yeast Extract, Salt, Sunflower Oil, Vegetable Glycerin, Dried Yeast, Gum Arabic, Citrus Extract (to protect quality), Ascorbic Acid (to maintain color), Beet Juice Extract (for color), Acetic Acid, Succinic Acid, Modified Food Starch, Annatto (for color).
And Walmart brand beef patties:
100% pure beef
As we've mentioned in previous blog posts, the mere presence of an additive isn't dangerous or unhealthy. But when people think they're swapping out meat for a vegetable while they're actually getting a plateful of heavily processed ingredients, the results don't look great for America's waistline.
If you want to eat meat, eat meat. Just be sure you also get the daily recommended amount of fruits and vegetables, too.