Why Are Experts Predicting a Global Power Shortage This Winter?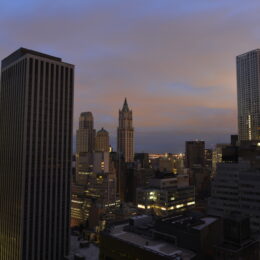 Winter always puts added pressure on a region's power supply as longer, chillier nights require more heat and light than other seasons. But this year, some experts are warning that the planet may be hurtling toward a global power shortage that could leave families in the cold. 
The shortages have already started in some parts of the world. 
In China, an unexpected power outage in the city of Jilin left many in the dark. Cars piled up as traffic lights dimmed and families were forced to climb dozens of flights of stairs without functioning elevators. One state-owned provider sent a message to Chinese customers telling them to expect the outages "of indeterminate lengths, at indeterminate times, without [a] plan, without warning" to continue throughout March. Candle sales have skyrocketed. 
In the United Kingdom, diesel and gasoline shortages have led to long lines at the pump with many drivers concerned as to how they will be able to get around. Roughly one-third of gas stations reported being without fuel in late September, though that percentage did slowly drop. 
The U.K is also facing a shortage of natural gas — which is used to heat homes and fuel stoves — prompting costs to shoot through the roof. In the past year, natural gas prices have grown fivefold with prices sitting at roughly four times the price of natural gas in the United States. But an uptick in prices in the U.S. is expected to hit soon. 
How did we get here?
Each country has a unique set of causes for its fuel shortages. China, for example, reduced its coal imports in an attempt to push back against Australia in a foreign-policy tiff. And the United Kingdom is facing a worker shortage leading to fewer drivers to transport fuel. 
But underlying each power shortage is a common theme: climate change. 
Around the planet, governments have been working to reduce their carbon footprint. That has led to coal mines shuttering, natural gas pipelines being blocked, and massive investments in renewable energy sources — like wind and solar — that cannot actually power entire countries. 
The U.K., for example, shut down a major gas storage facility in 2017 leaving the country with roughly one week's supply of fuel. Germany, for comparison, has enough storage capacity to power the country for three months. Economists stated that the U.K. is "a victim of its own progress on lowering emissions."  
It's not as if the U.K. government was not warned that this could happen. Mike Foster, chief executive of the trade group Energy and Utilities Alliance, told the Wall Street Journal that he told several ministers, "You have to be able to back your system up for when the wind doesn't blow. They thought the risk wasn't great enough."
China — which had spent years building coal power plants as a developing country — has recently tried to reposition itself as a leader in the global fight against climate change. But China, too, rushed decarbonization. Li Yifei, a scholar at New York University, blamed these policies for the current outages, telling the Washington Post, "A badly thought-out environmental policy ends up antagonizing an entire citizenry."
Ironically, the botched environmental policies of these two nations have caused the price of coal to skyrocket. 
The energy crises in China, the United Kingdom, and elsewhere are causing factories to temporarily close, leading to supply chain disruptions and higher costs around the globe.
Will these shortages hit the United State?
Although the damage is nowhere near the scope of China and the U.K., the United States is already feeling some of the effects of the shortages. Gas prices have been climbing prompting Biden to ask the Organization of the Petroleum Exporting Countries (OPEC) to increase oil production. 
But many are wondering why the Biden administration is going to OPEC rather than turning to American energy producers. The Wall Street Journal editorial board noted that the U.S. has not returned to pre-pandemic levels of fuel production. They begged the question to Biden, "How about encouraging more U.S. production?"
Under the Trump administration, the U.S. reached energy independence for the first time in decades making it so that the country could be fully self-reliant when it comes to meeting its demand for energy. But the Biden administration took steps to undo that progress, blocking natural gas pipelines like the Keystone XL pipeline and outlawing new fracking permits on federal land. 
While it does not look as though the U.S. will face the complete outages witnessed in China, it will be an expensive year to heat homes. The National Energy Assistance Directors Association estimated that natural gas bills could increase as much as 30% more for consumers this winter and the average cost to heat a home could rise from $572 to $750.
These shortages will certainly lead to a lot of families questioning whether the aggressive climate change policies are worth it. While many environmentalists seem dead set on sticking with solar and wind power for their carbon-neutral supply, policymakers will need to consider if it is worth the shortages or if other efficient technologies, such as nuclear power, should be the future.