Staying Safe When Regulations Are Drained With The Swamp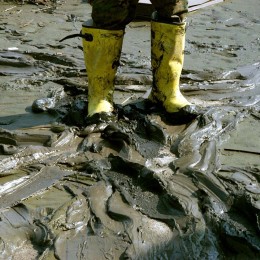 Last month, the U.S. Environmental Protection Agency (EPA) asked the public which regulations it should repeal, replace, or modify. With almost 70,000 responses to date, the agency certainly has its work cut out for it.
Understandably, some people worry that broad rollbacks could harken back to a time when many of the nation's rivers and streams weren't safe to enter.
But in the four decades since the creation of the EPA, we've learned a lot about how certain substances impact human and environmental health. Today, it's far more common to see plastics manufacturers banding together to clean our oceans, or chemical manufacturers voluntarily pledging to improve the environmental and health impacts of their facilities.
So we pondered – how can the public know that their products are safe when regulations are drained with the swamp?
Our Chief Science Officer, Dr. Joseph Perrone, wrote about his suggestion in an article for Chem.info. Rather than indiscriminate slashing and burning, he argues the EPA should focus on rolling back regulations where private sector safeguards already exist.
You can read an excerpt of the article below, or on the Chem.info website:
Signed in 1996, the National Technology Transfer and Advancement Act requires government agencies to defer to the private sector's own quality and safety standards. These "voluntary consensus standards" ensure your vacuum's HEPA filter works regardless of whether you purchase a Hoover or a Dirt Devil, and that your regular gasoline has a consistent octane rating (87, for the curious) no matter which gas station fills your vehicle.

Industry standards are formulated using the best available science – after all, manufacturers who can prove the safety and quality of their products gain an edge over lesser quality (and less costly) products from their competition. And if one assumes this "voluntary compliance" would yield the fewest standards possible, think again. More than 800 voluntary consensus standards dictate best practices in manufacturing, and over 3,000 are in place to ensure the safety and consistency of economically important chemicals.

In fact, private sector self-regulation has been so successful that the EPA even refuses to award its research grants to laboratories that fail to meet the ANSI industry standard for environmental data collection.