Dr. Oz's Latest Health-spiracy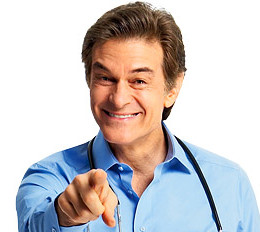 TV personality Dr. Mehmet Oz has brought yet another unwanted spotlight upon himself.
The good doctor (we use the term loosely) is being sued by the North American Olive Oil Association (NAOOA) for making false claims against the quality of olive oil sold in the U.S. Dr. Oz recently claimed a "shocking" 80 percent of extra virgin olive oil bought at the local supermarket isn't real. He alluded to widespread fraud in the olive oil industry as a scam to sell inferior products at a higher price.
The irrefutable evidence? Not a laboratory-conducted analysis, but a taste tester.
While Dr. Oz relies on the fanciful authority of one woman's nose and tongue, NAOOA conducts numerous annual laboratory analyses to ensure the purity of available olive oil. The numbers don't lie – data shows only 2 percent of samples fail to meet standards of quality and authenticity.
With the vast majority of oils living up to their label, Dr. Oz's claims needlessly leave customers feeling duped, and may dissuade them from purchasing olive oil altogether. Such an outcome is unfortunate, considering studies point to olive oil as a healthier alternative to saturated fats, and possible mitigator of death by cardiovascular diseases.
The olive oil debacle isn't the first time Dr. Oz used his platform as "America's most trusted doctor" to peddle questionable information.
In 2014, Dr. Oz came under fire for promoting "miracle" weight loss products like raspberry keytone and green coffee bean extract – the latter which itself became the subject of a lawsuit, Federal Trade Commission investigation, and eventual retraction of research. His propensity to give weight to baseless viewpoints has invited severe scrutiny from The New Yorker, among other reputable publications.
While Dr. Oz continues down his slippery slope of pseudoscience, viewers should take the doctor's advice with a grain of salt. And although nutrition science is notoriously fickle, we can confidently say this: outrageous health-spiracies shouldn't be part of your balanced diet.