Anti-Science Activists Enraged By Biden Ag Secretary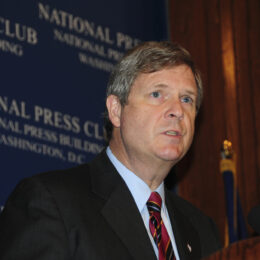 February 11, 2021
Categories: GMOs
Anti-science haters are upset by Tom Vilsack, President Joe Biden's nominee to be agriculture secretary, because he supports farmers using genetically engineered crops. 
Biden nominated Vilsack, the former governor of Iowa, to return to his post as United States Agriculture Secretary. Vilsack served as agriculture secretary under President Barack Obama. Biden must feel like Vilsack did a good job because he wants him to pick back up where he left off in the cabinet. 
Activists who oppose genetically modified crops have been lamenting the decision because Vilsack approved many GM crops for use in the United States. In fact, Vilsack approved more genetically engineered crops than any other agriculture secretary in United States' history. 
Vilsack's enthusiastic support for genetically modified crops should be a selling point for his cabinet nomination. Genetically modified crops produce higher yields while simultaneously using fewer pesticides, less land, and less water. Because of engineered crops, the growing U.S. population is fed on less land than ever before. 
Genetically modified crops are also safe and there is no evidence that humans are harmed by consuming modified crops. Reams of studies have been done on GM crops. Moreover, engineered crops can even be modified to be more nutritious than standard crops, such as Vitamin A enriched golden rice. 
Vilsack understood that modified crops are better for the environment and they ensure that the U.S. can continue to feed its expanding population. 
But, of course, anti-GM activists have been smearing Vilsack for supporting science. The group RootsAction.org condemned Vilsack's nomination, adding, "Vilsack ushered through a spineless GM labeling standard rubber stamped by Big Ag, and sped-up the approval process for genetically modified crops."
The left-wing group Public Employees for Environmental Responsibility (PEER) also condemned Vilsack for his "unquestioning public embrace of genetically-modified crops." PEER's Executive Director Tim Whitehouse called Vilsack's record at the Department of Agriculture "appalling."
This unfounded hatred of GM crops is not only misleading, but it is dangerous. Opposition to GM technology has led to children suffering overseas and top officials have warned that opposing modified crops could lead to famine for future generations. 
There is a reason that both Republicans and Democrats — who seemingly disagree on everything — continue to support the production of modified crops. Vilsack may have other issues with which someone can disagree, but his support for scientifically improved crops shouldn't be one of them.